See on Scoop.it – How to – Marketing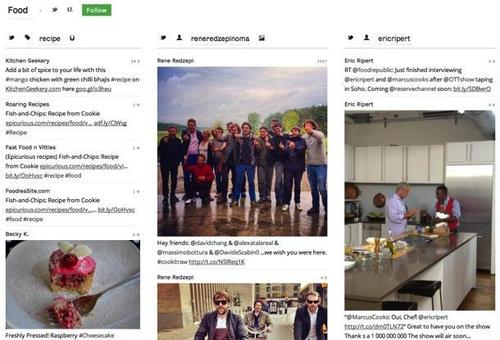 Excerpted from review article on ReadWriteWeb:
"As streams of information become more popular on the Web, we need better ways to consume and manage them. Apps that allow you to aggregate content from different sources – Twitter, Facebook, blogs, news websites and more – may become very popular: State is trying it.
State is currently in private beta. At first glance, it looks part FriendFeed, part TweetDeck, part iGoogle, and part something wholly new.
Co-founder Joshua Lewis said:
"what the future of the web looks like when you replace static content with streams of data.
…State is "a general purpose tool to manipulate, filter and publish streams of data."
How State Works:
You can add streams of content from up to four services (so far): Twitter, App.net, Instagram and Dropbox. This is the part that reminds me of a start page, like early Netvibes or iGoogle, because you end up with panels of content across the web page. You can also connect to Instapaper, enabling you to save content for later reading.
Then, like TweetDeck, you're able to view various aspects of the stream. For Twitter, you can select to view content by home timeline, mentions, user, place, tag, search and list. The same principle applies to content from App.net and Instagram.
While State only connects to five services so far, you can imagine it eventually hooking into many more.
One feature I really like in State is the ability to "follow" a page of streams that someone else has created.
Each page – or "workspace" to use the service's parlance – is made up of many different streams of content.
There is limited ability to filter – for example, you can select to view only images from a stream. But I imagine more filtering options will be added over time.
By default your pages are private, but you can choose to share or make them public…"
Read full original article here:
http://www.readwriteweb.com/archives/first-look-state-a-streams-app-of-the-future.php
Check it out here: https://www.sharingstate.com
Request an invite: https://www.sharingstate.com/signup
Check out demo: https://www.sharingstate.com/demo/Home
See on www.readwriteweb.com