See on Scoop.it – How to – Marketing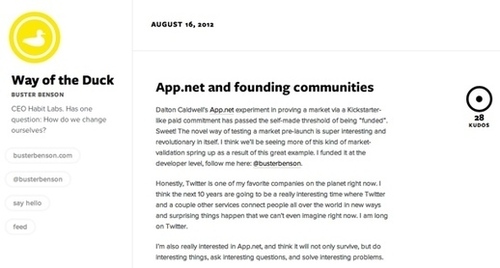 Excerpted from article:
"We're witnessing another sea change in Web publishing.
There's a new edge and it's populated by the likes of Medium (a kind of categorized Tumblr), Branch (the sister site of Medium, for discussions), App.net (a microblogging platform) and Svbtle (an elite network of indie bloggers).
Here are five key drivers for this new wave of publishing services.
1. Publishing Is Getting More Casual:
The publishing process less onerous. It's now less about composition (being a writer or blogger) and more about expressing your thoughts as simply as possible.
Not only is the type of content less formal now, the design is stripped back too. All of the latest web publishing tools have minimalist, in some cases almost naked, interfaces.
2. The Web Is Moving From Pages to Streams:
This new wave of tools is looking for ways to deliver content in a more flexible way.
Veteran blogger Anil Dash declared that he wants "a clean, simple stream of my writing, organized by topic and sorted with the newest stuff on top."
3. Topic Organization Is Finally Happening:
This is essentially what Medium is attempting to do, with its "collections" – which are posts by various people organized by topic or theme. Content on the Social Web has become far too chaotic and it desparately needs organization.
4. Quality Is In Vogue:
The Web is awash with content – much of it poor quality. Medium is explicit about wanting to change this:
"Our philosophy is that quality begets quality, so we will grow Medium smartly, ensuring that our platform is valuable to everyone in this increasingly mobile, connected, and noisy world."
5. Startups Are Searching For Non-Advertising Business Models:
Finally, the new wave of publishing services are all seemingly anti-advertising. There is experimentation happening again on the Web – which is a very positive sign…"
Read full original article here:
http://www.readwriteweb.com/archives/5-reasons-why-web-publishing-is-changing-again.php
See on www.readwriteweb.com