See on Scoop.it – How to – Marketing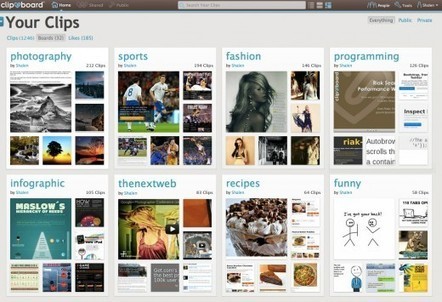 Giuseppe Mauriello: I "scooped" this service called Clipboard when it was in private beta, October 15, 2011:
http://www.scoop.it/t/social-media-content-curation/p/548503878/new-powerful-curation-tool-clipboard-saves-pieces-of-web-pages
Today Clipboard, that allows users to save parts of Web pages, is no longer in private beta.
From review on The Next Web:
"Clipboard was founded by Gary Flake, who previously founded Microsoft's Live Labs, Yahoo Research.
Flake sees Clipboard as a service closer to Dropbox, then he does Pinterest. While Pinterest is more for vanity sharing, his company is all about capturing the important parts of the web for your own purposes, whether you want to keep your clips private or share them with others.
Along with coming out of beta, the site has launched its own feature called "boards", which Flake tells me was the original concept for the site. Users can now put together all of the things that they clip into a Pinterest-style board and share them publicly or just with specific people.
By using Clipboard, you can not only share links, you can share the actual context of what interested you in the first place, with the code from the page completely intact. So if you wanted to clip an IMDB page, all of the links to the actor pages would remain. This beats the current Pinterest experience of simply grabbing an image…"
Read full article here:
http://thenextweb.com/apps/2012/05/31/clipboard-officially-launches-adds-boards-and-could-become-your-new-inbox/
Try out it: https://clipboard.com
See on thenextweb.com