Via Scoop.it – What's new on the Avenue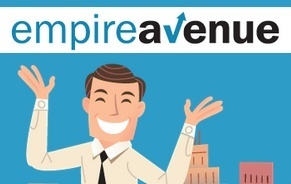 Empire Avenue is a social stock market simulation game that allows individuals and businesses to buy and sell shares of other site users. You can increase your own value by connecting your other social media platforms to your Empire Avenue profile and staying active on these platforms. Your share price goes up and down based on your social interaction.
You also earn value through investing in other people on the site. As their score goes up, you earn more "eaves" or the virtual currency used on this site. The more eaves you earn, the more people you can invest in.
The key is to invest in people who are going to continue to be active on social media, therefore continuing to raise their score.